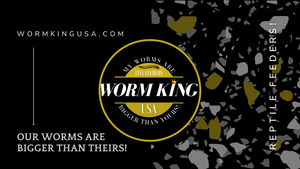 From the very first time I purchased worms from Worm King I knew I would never buy them anywhere else. The worms are always healthy, plump worms. My beardie loves them! Customer service is also great! I get quick responses to my messages as well as quick pick up times. I would recommend Worm King to anyone who has a bearded dragon to feed or even to someone who just wants to use as them as fishing bait. The fish love them too!
Worm King has great customer service, great communication, and also quick response to any questions. The quality of the worms and dubias are excellent. When I received them, they were in great condition. I highly recommend to others to buy from him. The prices are great as well.
Worm King always has what we need in stock and is very reasonably priced. We will never buy worms anywhere else.I've been using Worm King for nearly two years now and have always had the best experience and received the best super worms in the low country. They are large, plump, and provide premium nutrition for my bearded dragon.
I ordered dubias from Worm King and they were all alive, plump, and my bearded dragon loves them! I ordered from small to large and I like ordering them because they have no smell like crickets and they are healthier to feed. Great guy to order from!